Updated October 28, 2020
Certificate Expired
A digital certificate used to verify FEMA IPAWS alerts has now expired. As announced in July, you must take action to allow your ENDEC to continue to receive and validate alerts as required by FCC Part 11. Many users have already done so.
We released a free update containing a replacement certificate in July, and we sent an email to our users who signed up for support email.
What version of ENDEC software do you need?
The current version is Rev95 with CR-Rev5. Use the "version" button on the ENDEC's web page to see your version information. You want to see text that includes this:
Board rev 4/95.00 (or Board rev 5/95.00) CR-Rev5
You might also see P1 or P2 or P3 or P4 on the line with CR-Rev5. The P numbers denote patches, with various improvements. These are optional, but don't affect the way the ENDEC deals with alerts. If you don't have P4 you should install it when you get a chance.
Please read the CR-Rev5 release notes for more information. If this is the first you've heard of Rev95, read our October 2019 question and answer document and the release notes.
Updated July 23, 2020
IPAWS signing certificate expires October 28, 2020
A signing certificate used by FEMA to validate CAP alerts will expire on October 28, 2020, at 14:05:29 UTC. Sage has released a free firmware update that you must install to permit your ENDEC to continue to receive EAS CAP alerts from FEMA after that date.
This release also updates the SSL root certificates that your ENDEC must have in order to download alert audio files from state or county alert originators. You must already be running the Rev95 release. Users without Rev95 stopped validating CAP alerts in November 2019, and have been unable to connect to the IPAWS server as of July 6, 2020.
Please read the release notes for more information. The installation process is straightforward, as is described in the release notes. Installing this update will not change any of the settings on your ENDEC.
While installing this update, you might notice that you aren't running the latest patch set for Rev95. We made a few changes to Rev95 in November and December 2019. None of these were problems that affected alert handling. You can read the P4 release notes to see if you'd like to install the patch. P4 won't conflict with CR-Rev5, you can install P4 before CR-Rev5, after, or not at all.
Updated July 6, 2020
TLS 1.0/1.1 has been turned off for IPAWS
FEMA has now disabled TLS 1.0/1.1 support for IPAWS. This had no effect on ENDECs running the Rev95 update. ENDECs running older versions have not have been validating CAP alerts from IPAWS since November 2019, and are now seeing a blinking "Automatic" led on the front panel. See our question and answer document and the release notes for details on the required Rev95 release.
Updated July 2, 2020
Reminder about TLS 1.0/1.1
Many broadcasters will have recently seen a notice from FEMA about IPAWS access. This will have no effect on Sage users running Rev95.
Details
Last year, FEMA announced that they would stop supporting older versions of the security protocol used to access the IPAWS CAP servers - called TLS 1.0/1.1. Sage's Rev95 update, released in November 2019, supports the new required version called TLS 1.2.
The REV95 release also included a required security certificate that allows users to receive and validate CAP messages. All Sage users should be running Rev95.
Having provided many months of lead time, FEMA announced on June 25, 2020 that they will pull the plug on the old protocol on July 6. Users running Rev95 will not notice any difference. Users running old Sage ENDEC software will see a blinking red Automatic LED on the front panel of the ENDEC, a CAP DOWN indication on the ENDEC's web page, and will see "Unable to establish SSL connection" on the Tools page Wget log. See our question and answer document and the release notes for additional details on the Rev95 release.
Updated March 20, 2020
Adding Additional Events
Many broadcasters have recently been asked to add additonal event codes to their air list. We've added a
task sheet
to help you. This is the same procedure that has always been used, but you probably haven't needed to use it in a while.
Updated December 17, 2019
Rev 95 Release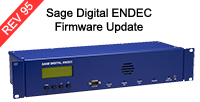 The Rev 95 update was released on November 4, 2019. An optional patch for a few minor items was issued on December 17.
Updated September 16, 2019
September Release (Rev95)
As announced in July, Sage will release an update to address changing security requirements for IPAWS access as well as several new ENDEC features. As we prepare to roll out this release, we have provided a Q&A document to give you information about the upcoming release.
Check the Q&A document to see if your ENDEC qualifies for the "bought it after March 1, 2018" free update. Do not contact your distributor regarding the free update.
We will update this page when the Rev95 update is released. We will also send an email to our support email list. If you are not on that list, sign up on the support page.
From July 17, 2019
Release 89-34 - July 17, 2019
Sage has released firmware version 89-34. See the firmware page for details, or read the release notes pdf.
This free update addresses a changed requirement in the FCC EAS rules, Part 11.33(a)(10), which affects how the valid time frame of an alert is determined. This rule change takes effect on August 12, 2019. The ENDEC currently employs a slightly different method of determining the valid time frame. The update will have no adverse effect on the reception and relay of valid alerts. All users must install this update to keep your ENDEC compliant. The update also adds the BLU alert to the list of valid alerts if you have not previously installed version 89-32.
NOTE: This release does not affect the ENDEC's reception and relay of the scheduled August 7, 2019 National Periodic Test. Whether your ENDEC is running version 89-30, 89-32, or this new version 89-34, your ENDEC will relay the NPT.
National Periodic Test
FEMA plans to run a National Periodic Test on August 7, 2019. You should take the following two steps to make sure you are ready to relay this alert.
You can verify that your ENDEC is configured to carry the alert by using the "Verify Req" button at the bottom of the tools page in the ENDEC's web interface. Click it and the ENDEC will show the filter names that match the EAN and NPT codes, and an indication that your settings are, or are not, compliant. If you don't have a "Verify Req" button, or you don't see the "Your ENDEC will meet the FCC requirements" messages for EAN and NPT, then you are running a pre-2016 release. See the release notes for the 89-34 update to update your ENDEC.
The 2019 NPT will be not be issued via a CAP server, you need to make sure your ENDEC is listening to the proper monitoring assignments. Check your EAS logs to see if are receiving weekly tests from those sources. If not, find out why.
Major release planned for September, 2019
Sage also plans a major version release in September. As is typical with data security, old methods are discarded in favor of new, more secure methods. FEMA will be making a change to the method used to connect to its IPAWS server, disabling an older method in favor of the new standard. Our September release will support that change. After the FEMA switchover, older versions of the ENDEC software will not be able to receive CAP messages from IPAWS. In addition, the September release will focus on features our users have asked for, including the ability to preferentially send the CAP version of EAS messages for most alerts, role-based logins, enhanced automation interfaces (IP and GPIO), day parts, activity logging, emailed summary logs, and more. This release will be mandatory.
While Sage has made updates available at no charge since the original 2008 release of the Model 3644 ENDEC, there will be a one-time charge of $349 for the September release. The release will only be sold through our distributors. This update will be provided free of charge for ENDECs purchased new after March 1, 2018 (eighteen months prior to September 2019). We'll send out an email when that release is available.