Shows and Events
NAB 2013
Sage Alerting Systems and Global Security Systems, will show Multi-lingual EAS and CAP alerts at the upcoming 2013 NAB Show
Sage, manufacturer of the Sage Digital ENDEC, is showing its multiple language support in booth C2546 in the Las Vegas Convention Center's Central Hall, as part of the Global Security Systems (GSS) CAP origination and dissemination demo in the Worldcast Systems booth.
Sage will demonstrate its support for CAP language-tagged info blocks, allowing the ENDEC to display text and play attached audio in the language selected by the station, when that language is present in the CAP message. In addition, Sage will show its Text to Speech conversion to audio for French Canadian and Spanish.
GSS, a company that specializes in CAP alert origination, satellite and Internet dissemination, as well as its RDS-based Alert FM, will also show server-based Text to Speech, allowing for a wide range of languages to be converted and the resulting audio attached to the CAP message.
The Sage ENDEC will have a live connection to Canada's National Alert Aggregation and Dissemination (NAAD) system, an IPAWS-like national system using the CAP-CP dialect of CAP. There are more than 150 Sage Digital ENDECs already in daily use in Canada, using either the NAAD system or the province-based NetAlerts system.
Demonstrations are available throughout the show.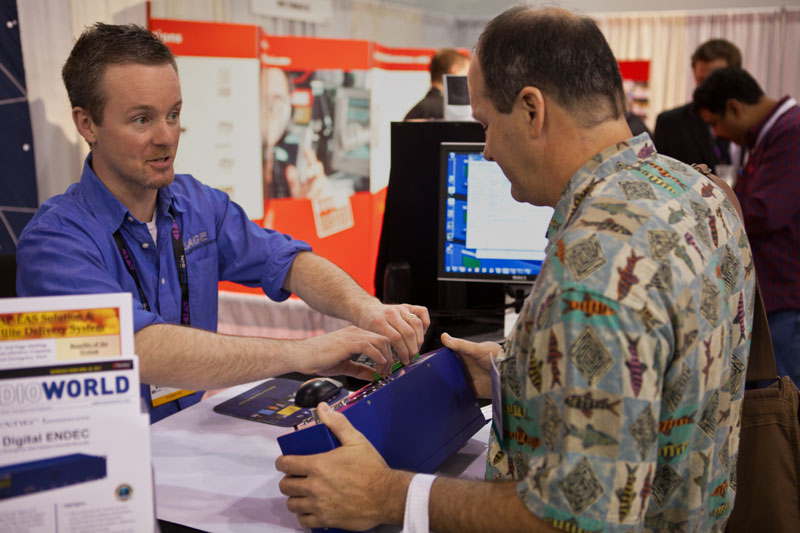 Chris explains it all. NAB 2012.