Sage Digital ENDEC
Sage Digital ENDEC spec sheet.
Description of features.
Part 11 Certification V2W3644.
FEMA CAP 1.2 Conformity Assessment Declaration.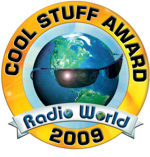 The Sage Digital ENDEC incorporates the legacy and reliability of the original Sage ENDEC along with the latest developments in EAS and CAP. The Sage Digital ENDEC's network centric design allows logging via network printers and email, control/automation, and NTP access to a time standard via a network or Internet connection. The familiar front panel legacy interface is also supported. The new Sage Digital ENDEC has text to speech capabilities and is fully compliant with the FEMA specified CAP 1.2 standard.
The ENDEC supports CAP 1.1 and CAP 1.2, with the IPAWS Profile 1.0 and ECIG Implementation Guide. Final FCC definitions of CAP for use with EAS are pending, however, changes by the FCC are expected to be minor, and Sage plans to offer a free software update for those changes once they are published by the FCC. See the FCC's Fourth Report and Order for details.
The Sage Digital ENDEC's design, features, cost efficiency, and performance in serving radio broadcast users was highlighted by its receipt of the Radio World "Cool Stuff" Award, presented at the 2009 NAB Show.
The Sage Digital ENDEC was designed for single or clustered analog and HD radio stations as well as analog and HDTV facilities. The ENDEC has wide support by character generator manufacturers.
In public safety, the Sage Digital ENDEC provides the abilty for local and state officials to directly activate the EAS system.
The Sage Digital ENDEC is distributed by names you know, see our list of distributors.

The Sage Digital ENDEC is certified for Parts 11 and 15 of the FCC rules.